Episodes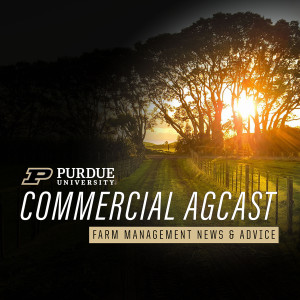 Friday Sep 16, 2022
Friday Sep 16, 2022
Purdue ag economists Michael Langemeier, Nathan Thompson and James Mintert broadcasted the September Crop Outlook webinar on Friday, September 16, 2022. The webinar featured information from USDA's September Crop Production and World Agricultural Supply and Demand Estimates (WASDE) reports along with current export and ethanol grind estimates. The webinar also included updated corn and soybean basis information, a first look at estimated corn and soybean breakeven prices for the 2023 crop and a comparison of flexible cash leasing of farmland to traditional fixed cash rent leasing.
Slides from the discussion can be found at https://ag.purdue.edu/commercialag/home/resource/2022/09/september-corn-soybean-outlook-update-2/
Podcast provided by Purdue University's Center for Commercial Agriculture. For more information on the current ag outlook and farm economy, visit us at http://purdue.edu/commercialag.